Flat Roof Awning Kit made from COLORBOND® Steel
Now available in a flat pack DIY or professionally installed
No longer neglect your outdoor area and make use of it today, with our DIY roofing flat pack solutions you can now save money and time all at once. Enhance your home with a flat roof flat pack solution that can be DIY installed or we can come to you and install it for you.
Flat roofs are an affordable way to covering and entryway or another outdoor area. The flat roof design outdoor covering is the most popular design of roofing in Australia today and is suitable for any type of home. Our high-quality flat roof COLORBOND® Steel solution is cost effective and constructed from high-quality materials.
You can now enjoy your outdoor area and have protection from the weather elements such as sun and rain without breaking the bank.
Our flat roof awning kit made from COLORBOND® Steel comes with Gutters, Downpipes and is available in a range of colours. Free delivery in a 20km radius from Greystanes
Call today to find out more on 0438 367 727
Why Choose Us ?
Materials sourced from reputable Australian suppliers
7 day turn around time from date of order
Choose from over 20 genuine COLORBOND® Steel colours
Mix and match colors to suite your project
15 years manufacturers warranty on materials
7 years warranty on installations
Flat Pack Roof Kits
We also have DIY Flat pack solutions in standard sizes that are ready to be assembled as DIY or we can install it for you. Free delivery in Sydney.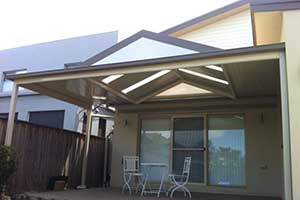 Create a living space that is open and stylish. This is a great option to shade and protect recreation areas and living spaces.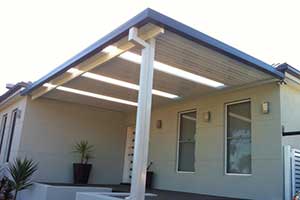 A versatile solution for verandah's or patio. The cost effective solution for outdoor living areas at your home in a convenient flat pack kit. A great option for outdoor eating areas.
Protecting your vehicle from the elements is important which is why our highly requested carport kit is, exceptional value for your investment.
You can call us now on 0438 367 727 or request a quote us by submitting the form below