Verandahs, Pergolas, Carports, Patios, Insulated Outdoor Roof Specialist
If you're looking for experience with uncompromised quality and commitment to get the job done, Solarguard should be your first choice. We only use the highest quality products for piece of mind. We like to think our honest approach to every job and transparent pricing is what makes us a reliable company to use for your next outdoor project. Call us on 0438 367 727 or Request a quote here!
What Type of Roof are you Looking for?
7 Years Guarantee on Workmanship & 15-year warranty on material, why would you shop anywhere else?
Over 10 Years Experience in Custom Built Awnings, Sheds & Decks
Use our online calculator and get an
INSTANT QUOTE
Awnings & Sheds Installer in Greystanes, Sydney
Don't let the harsh Aussie sun take over your home. Make the most out of your living areas & keep that harsh sun at bay with Solarguard's wide range of outdoor awnings, which are ideal for Australian weather.
Take advantage of your outdoor living space with stylish patio awnings and pergola solutions built for all-year use. Get the exact look you desire via our wide variety of
COLORBOND® Steel colours. You don't have to put up any longer with the glare and heat! Protect yourself from the rain and the wind with our awning patio & pergola solutions!
Choose from our stylish COLORBOND® Steel insulated roof solutions and achieve a new and exciting entertainment area, with which you can enjoy your stay with family members and close friends. Stay cool & protected from the Aussie sun with our awning solutions.
We can custom build your outdoor covered area such as Verandah's, Patio's, Awnings made from COLORBOND® Steel, Pergolas, Insulated roofs, Carports and we offer complete, Privacy-screen, Shed and Wood decking solutions.
Solarguard Awnings has the widest variety of patio and pergola systems in the industry, handled by our highly experienced and skilled staff. Rest assured that this investment will be worthwhile for your family and property!
Solarguard Awnings & Sheds don't just offer high-quality metal patio awnings per your specific taste, but we also ensure competitive pricing for any budget. Contemporary or traditional, simple or lavish, Solarguard Sydney can provide just what you've been searching for. Regardless of what you need, whether it is a new gate, fence, privacy screen, deck, outdoor entertainment area or anything else, we'll take care of everything – from start to end! 
Flat Pack Roof Kits
We also have DIY Flat pack solutions in standard sizes that are ready to be assembled as DIY or we can install it for you. Free delivery in Sydney.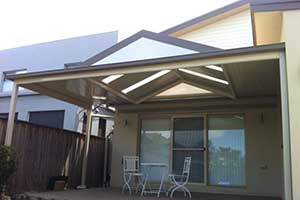 Create a living space that is open and stylish. This is a great option to shade and protect recreation areas and living spaces.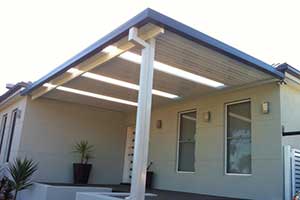 A versatile solution for verandah's or patio. The cost effective solution for outdoor living areas at your home in a convenient flat pack kit. A great option for outdoor eating areas.
Protecting your vehicle from the elements is important which is why our highly requested carport kit is, exceptional value for your investment.
Our attention to detail and always giving the highest level of customer satisfaction is what sets us apart. We often get calls from people who engage other roofers to do a job but for various reasons never work out or get completed.
Our commitment and expertise to getting the job done, on time and on budget is our promise to you.
Take a look at some of the past work we have done!
You can call us now on 0438 367 727 or request a quote us by submitting the form below